Biodynamic practises and no sulfites
Pierre Naigeon is the fifth generation of his family to be based in Gevrey-Chambertin, making wine. But Naigeons had been there since at least the 1700s. Initially farmers and coopers, the Naigeon family bought some acres of vines and started to produce a few barrels of red wine.
While the family has been in the wine for decades, Domaine Pierre Naigeon is a relatively recent creation. Pierre Naigeon began broking wine in around 1991 and also took on the few remain vines owned by the family – it was not much more than 1 hectare, but it included both Bonnes-Mares and Charmes-Chambertin. Pierre, who has also experienced making wine in the Yarra Valley, has since then built up his domaine to 11.5 hectares mainly through fermage and metayage contracts. He also has some grape-purchasing contracts, mainly for white wines.
Pierre vinifies everything himself, without blending different climats. That is why you can find a remarkable number of 10 different Gevrey-Chambertin! In the vineyard, he uses no herbicides, insecticides or synthetic anti-rot treatments. He's not certified bio but his methods are similar. He has also entered the biodynamic path: he uses these practices and follows the lunar cycles for all his operations in the vineyard and in the cellar.
Moreover, all the wines have been vinified without sulphites in 2018.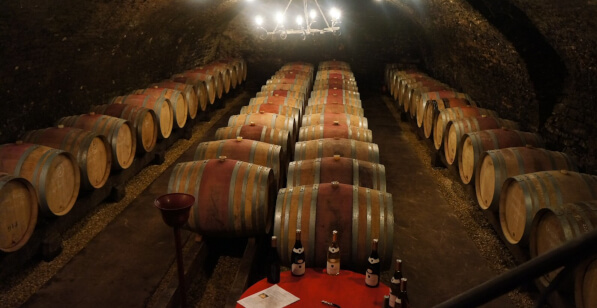 Pierre Naigeon's philosophy is to work harder in the vineyard and then let the grapes follow their way in the cellar. He advocates minimal intervention during the winemaking. After the fermentation, the wine is put into barrels by gravity. The average of new oak is around 20%, but it can rise up to 60% for the Grands Crus. Bottling is made without fining nor filtration. Each wine of Pierre NAIGEON shows a beautiful expression of their respective terroirs, with vibrant fruit aromas and very elegant tannins.
Wine list
White
Bourgogne Aligoté
Bourgogne Aligoté Skin Contact
Bourgogne Chardonnay « Les Demoiselles »
Bourgogne Hautes Côtes de Nuits « Les Martennes »
Côteaux Bourguignons « En Auvonne »
Crémant de Bourgogne Brut
Côte de Nuits Villages « LES CHAZOTS »
Macon « DAVAYE »
Macon Vergisson
Marsannay « LES CHAMPS PERDRIX »
Marsannay « Les Genelières »
MEURSAULT
Pouilly Fuissé « Clos Ressier »
Pouilly Fuissé « LES SCELLES »
Saint Romain « La Combe Bazin »
SAINT VERAN « LA PATICELLE »
Chassagne Montrachet 1er Cru « Les Embrazées »
Puligny Montrachet 1er Cru « Les Folatières »
Grand Cru
Corton Grand Cru « Les Grandes Lolières »
VDF
Vin de France Cépage Grenache
Red
Chambolle Musigny « Les Athets »
Fixin « L'Olivier »
Fixin « Les Herbues »
Gevrey Chambertin « Creux Brouillard »
Gevrey Chambertin « Echezeaux »
Gevrey Chambertin « En Pallud »
Gevrey Chambertin « En Reniard »
Gevrey Chambertin « En Sylvie »
Gevrey Chambertin « En Vosne »
Gevrey Chambertin « Les Corvées »
Gevrey Chambertin « Les Crais »
Gevrey Chambertin « Les Marchais »
Gevrey Chambertin « Meix Bas »
Marsannay « Sampagny »
Marsannay « VIEILLE VIGNE »
Morey Saint Denis « La Rue de Vergy »
Morey Saint Denis « Les Herbuottes »
Nuits Saint Georges « Les Charmottes »
Nuits Saint Georges « LES HERBUES »
Nuits Saint Georges « Les Plateaux »
Vosne Romanée « Basses Maizières »
Vosne Romanée « CHAMPS PERDRIX »
Chambolle Musigny 1er Cru « Les Feusselottes »
Fixin 1er Cru « Les Hervelets »
Gevrey Chambertin 1er Cru « Cherbaudes »
Gevrey Chambertin 1er Cru « Lavaux St Jacques »
Gevrey Chambertin 1er Cru « Les Fontenys »
Gevrey Chambertin 1er Cru « Perrières »
Morey Saint Denis 1er Cru « Les Chaffots »
Morey Saint Denis 1er Cru «LES MILLANDES»
Morey Saint Denis 1er Cru «LES VEROILLES»
Bonnes Mares Grand Cru « Cuvée Réserve »
Charmes Chambertin Grand Cru
Mazis Chambertin Grand Cru
VDF
Vin de France Cépage Grenache
Vin de France Cépage Syrah
Vin de France Cépages Grenache & Syrah